How to access your healthcare services online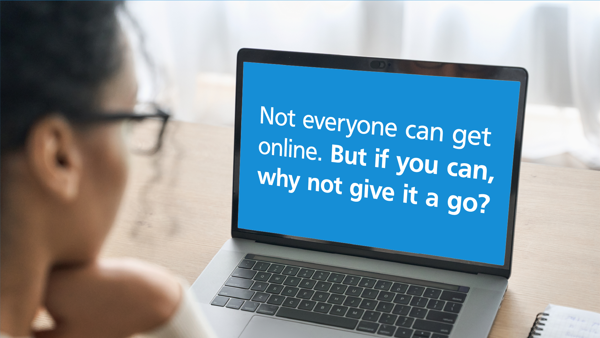 If you are registered with a local GP practice in Cheshire and Merseyside, there are some healthcare services you can access online.
Don't worry, this isn't designed to replace face-to-face care, as the option to access them in person will still always be there.
We have put together some useful questions and answers below for you:
How will accessing my healthcare services online benefit me?

Much like everything in today's world - such as internet shopping, banking and travel bookings - accessing some healthcare services online helps make things quicker and easier.

So, just like when you can use your smartphone to book a taxi, shop for clothes, order a coffee to go or transfer money to a friend, it's all about helping you get the right medical attention or advice at the right time, the first time around. And at a time and place that suits you.

If you can get online, why not give it a go?

As well as benefiting you, it helps to free up resources for those who can't or are unable to get online.

But don't worry, there will always be the option and ability to access your healthcare services in person when you need to.
What healthcare services can I access online?

Depending on which GP practice you are registered within Cheshire and Merseyside, you should be able to:

Contact your GP, nurse or another healthcare professional for advice and support: This can be anything from uploading photographs to inputting your symptoms or arranging a video or telephone consultation on their online secure system

Order repeat prescriptions: Meaning you can nominate a local pharmacy and order your medication to that pharmacy, when you need it, without having to see your GP until your next review.

View parts of your medical health records, including information about medicines, vaccinations and test results: This can also help you keep track of health conditions, allergies and previous consultations, and set up medication reminders

See communications between your GP practice and other services, such as hospitals and referrals: Giving you the ability to track your current conditions and medical information

Book, check or cancel appointments with a GP, nurse or other healthcare professional: Offering you control of your appointments
What about those who can't get online to access healthcare services?

Don't worry, we understand not everyone has the means or ability to get online. That's why all the healthcare services you can access online are still available to do in person.

Just like you can still pop to the shops or book a holiday at a travel agent.
Does accessing these services online replace face-to-face care?

No, these online services won't replace face to face care.

This is simply offering people an alternative option to how they access some of their healthcare.

It is also designed to help GPs direct people to the most appropriate care for their needs and free up resources for those who need face-to-face medical attention the most.
I'm ready to give it a go, where do I start?

You can find out which services your GP practice offers by checking their website and registering using your NHS login details.  

Using your NHS login details, you can also register and get started straight away with the NHSApp for things like requesting repeat prescriptions, getting your NHS COVID pass or registering your organ donation decision.


What if I don't know my NHS login details or need more help?

You can simply ask your GP practice the next time you visit for assistance.
Read our case studies to find out more about these online services:
Rachel, 37, a patient from Crosby, Liverpool
"As a mum of two young kids, having the option to access NHS health services online has been a real game-changer.
"I can quickly schedule appointments while I'm also trying to get the kids ready for school and prepare for work!
"I'm sometimes over-cautious – wanting to get everything checked to be on the safe side. 
"Of course, there are times when we need to see somebody in person, and it's comforting that option will always be there. But sometimes, an online consultation is enough to sort out the problem.
"Using online health services has really helped me and I'd recommend others to give it a go. If you can get online, it offers convenience, accessibility and the support you need to look after your family's health."
Eugene, 67, a patient from Alderley Edge, Cheshire
"Having to go to the GP and then wait in line to get my prescriptions was always so time-consuming and at times frustrating, especially when I needed my medication urgently.
"I was a little reluctant at first to try online services, as I wasn't sure how efficient it would be. But I gave it a go and it's made a world of difference.
"Being able to order my prescriptions online is so much quicker and easier. Especially as I can order them from the comfort of my own home, without having to wait in line or make a trip to the GP. Plus, the speed at which I receive my medications is a big advantage.
"I'd definitely recommend it to anyone who wants an easier way to get their prescriptions."
Dr Dan Jones, GP and Digital Transformation Clinical Lead for NHS Cheshire and Merseyside
"Our GP practices are constantly adapting to meet the needs of our patients. In today's digital age, many people are now used to receiving messages and prefer the convenience of sending requests online. Online services can really help patients and GP practices, particularly when ordering prescriptions or accessing test results.  
"It is also helpful when people can access their letters from hospital visits to be more involved in their ongoing care and follow up. It saves people time and helps the NHS to be more efficient.
"I encourage my patients to explore reliable sources of information, such as NHS.uk. While it's important to be cautious when searching online, accessing trustworthy resources can help people understand their condition better and allows us to have more informed discussions.
"We understand that getting through to GP practices can sometimes be difficult, which is why we also want to highlight alternative avenues for seeking help, such as consulting pharmacists, counsellors and opticians. Embracing online health services, along with utilising these additional resources, can significantly empower patients in managing their health effectively."


Information:
Find out more by visiting your GP's website or speak to someone the next time you visit your practice.