Thousands set to benefit from faster access to vital NHS tests as new Paddington Community Diagnostic Centre opens to patients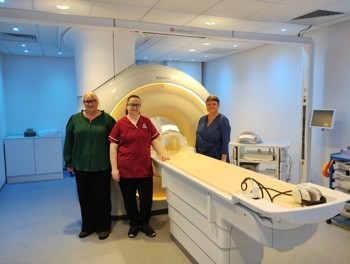 People in Liverpool will now benefit from faster access to vital tests and scans for a wide range of health conditions, with the opening of a new NHS community diagnostic centre on the Paddington Village development in Edge Hill.
The new Paddington Community Diagnostic Centre offers tests to people referred by health professionals to check for a wide range of conditions including musculoskeletal problems, gastrointestinal conditions, lung conditions and cancer. It will help them get a confirmed diagnosis so they can begin the treatment they need or to get the all-clear, putting their minds at rest.
The centre is just the first phase of a wider development transforming what was previously the privately-run Rutherford Cancer Centre North West into a first-class NHS facility for the people of Cheshire and Merseyside. In a landmark agreement in March 2023, The Clatterbridge Cancer Centre NHS Foundation Trust acquired the building on behalf of the NHS in our region.
Initially, Paddington Community Diagnostic Centre will offer MRI and ultrasound scans as well as blood tests (phlebotomy). That will extend to CT scans from the autumn once a new scanner has been installed and commissioned. Future phases will see it expand with additional services, further boosting NHS diagnostic capacity in response to local demand.
Community diagnostic centres (CDCs) provide the NHS with additional capacity to carry out vital tests and scans in locations away from the pressures of a busy acute hospital providing emergency care.
Paddington Community Diagnostic Centre is the eighth CDC to open in Cheshire and Merseyside, which has been at the vanguard of rolling out the new centres as part of a national NHS England programme supported by government funding.
St Helens was the first CDC to open nationally, closely followed by Clatterbridge Diagnostics in Wirral. Cheshire and Merseyside now has CDCs in Ellesmere Port, Liverpool Women's, Northwich, Southport and Halton, with two more on the way: one in Congleton and one at Shopping City in Runcorn.
Together, the new CDCs in Cheshire and Merseyside have already delivered 250,000 additional tests and scans for the NHS than would have been possible without them – a figure that will rise to 318,000 in 2023/24. That's important because demand has grown year on year.
The number of diagnostic tests performed now is double what it was five years ago, with more than 100,000 carried out each month in Cheshire and Merseyside and demand keeps rising. It means CDCs are an essential tool in cutting waiting times and supporting earlier, faster diagnosis.
Dr Liz Bishop, Chief Executive of The Clatterbridge Cancer Centre NHS Foundation Trust and Senior Responsible Officer for Diagnostics in Cheshire and Merseyside, said:
Information:
"People in Liverpool are more likely to experience ill health than the national average so it's particularly important that they can get the tests they need when symptoms develop.
"Faster and earlier access to tests thanks to community diagnostic centres like this will mean people with potentially serious conditions – and those living with pain or other symptoms – can get diagnosed and start treatment more quickly, giving them a better quality of life and a better chance of a successful outcome.
"Paddington Community Diagnostic Centre will help people with many different kinds of health conditions and we feel a real responsibility as a leading specialist trust to develop services like this that support the wider NHS and the communities we serve across Cheshire and Merseyside."
Dr Michael Gregory, Regional Medical Director at NHS England – North West, said:
Information:
"We know that rapid diagnosis saves lives, and the opening of this new facility at the Paddington Village will mean thousands more patients can get life-saving tests, checks and scans in the heart of the community, without having to travel to the hospital.
"This new community diagnostics centre will help address disparities in health within the wider community and decrease the demand for referrals and hospital visits, easing the pressure on hospital facilities.
"It is another fantastic step to ensure that the NHS is making a positive difference to the way the people of Liverpool and beyond receive care."
Professor Rowan Pritchard-Jones, Medical Director for NHS Cheshire and Merseyside, said:
Information:
"We are one of the few health systems in the country to have a dedicated programme to improve diagnostics and we welcome the opening of this additional Community Diagnostics Centre for Cheshire and Merseyside as part of that work, helping us to give patients much quicker access to the tests and scans they need. We know that diagnosing patients as soon as possible can lead to better treatment outcomes, which is why centres like this one in Paddington Village are so important."
Tracey Cole, Diagnostics Programme Director for NHS Cheshire and Merseyside, said: 
Information:
"Excellent healthcare can only be provided once a patient has a diagnosis. Paddington Community Diagnostic Centre will help ensure that everyone in Cheshire and Merseyside has fast access to the tests they need in a setting local to them. Paddington Community Diagnostic Centre will see all types of patients, not just those who could have cancer. We want patients who are offered an appointment to take up their offer so that we can either rule out anything to be concerned about or be offered treatment if it is required."
WATCH: Dr Liz Bishop on the new Paddington Community Diagnostic Centre
WATCH: Prof Rowan Pritchard-Jones on the new Paddington Community Diagnostic Centre