Pharmacy opening times during the Coronation bank holiday (8 May 2023)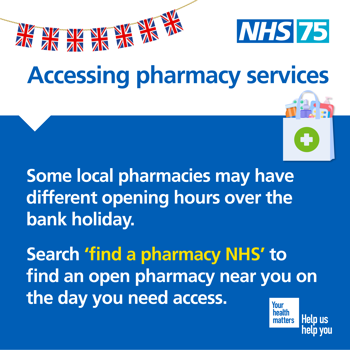 Some local pharmacies may have different opening hours during the upcoming bank holiday.
For the most up-to-date information, find your nearest pharmacy and their opening hours in the service finder tool below.
Simply select 'Pharmacy' and enter your postcode to find the nearest one near you.
Alternatively, below is a list of pharmacies that are planning to be open during some hours on 8 May 2023. Please note that these times are subject to change.
Cheshire East
| | | |
| --- | --- | --- |
| Pharmacy | Postcode | Opening hours |
| Boots - Bridge Street - Congleton | CW12 1AY | 12:00 -14:00 |
| Boots - Congleton Retail Park - Congleton | CW12 1LJ | 10:00 -16:00 |
| Tesco Pharmacy - Barn Road - Congleton | CW12 1LR | 09:00 -17:00 |
| Tesco Pharmacy - Kiln Croft Lane - Handforth | SK9 3PA | 09:00 -17:00 |
| WELL Pharmacy - Wilmslow Road - Handforth | SK9 3ES | 10:00-12:00 |
| Boots - King Street - Knutsford | WA16 6DT | 10:00-16:00 |
| Lloyds Pharmacy (Inside Sainsburys)- Cumberland Street - Macclesfield | SK10 1BJ | 10:00-16:00 |
| Tesco Pharmacy - Hibel Road - Macclesfield | SK10 2AB | 09:00-17:00 |
| Rowlands Pharmacy - Park Lane - Poynton | SK12 1RD | 10:00-12:00 |
| Boots - Grove Street - Wilmslow | SK9 1DY | 11:00-16:00 |
| WELL Pharmacy - Lawton Road - Alsager | ST7 2AA | 10:00-12:00 |
| Asda Pharmacy - Victoria Centre - Crewe | CW1 2PT | 10:00-16:00 |
| Boots - Grand Junction Way - Crewe | CW1 2RP | 09:00-18:00 |
| Tesco Pharmacy - Vernon Way - Crewe | CW1 2DD | 09:00-17:00 |
| Lloyds Pharmacy (Inside Sainsburys) - Middlewich Road - Nantwich | CW5 6PH | 10:00-16:00 |
| Morrisons Pharmacy - Station Road - Nantwich | CW5 5SP | 10:00-16:00 |
| Wise Pharmacy - London Road - Sandbach | CW11 3BD | 12:00-14:00 |
Cheshire West
| | | |
| --- | --- | --- |
| Pharmacy | Postcode | Opening hours |
| Boots - Witton Street - Northwich | CW9 5DH | 10:00-16:00 |
| Lloyds Pharmacy (Inside Sainsburys) - Northwich | CW9 5RT | 10:00-16:00 |
| Tesco Manchester Road - Northwich | CW9 5LY | 09:00-17:00 |
| Asda Dene Drive - Winsford | CW7 1BD | 10:00-16:00 |
| The Village Guy Lane - Waverton - Chester | CH3 7NX | 10:00-12:00 |
| Minor Ailments Lloyds (Inside Sainsburys) - Great Boughton | CH3 5QJ | 10:00-16:00 |
| Boots - Foregate St - Chester | CH1 1NA | 10:00-17:00 |
| Boots - Greyhound Retail Park - Chester | CH1 4QG | 10:00-17:00 |
| Morrisons Mill Lane - Bache | CH2 1BT | 10:00-16:00 |
| WELL Delamere Street - Chester | CH1 4DS | 10:00-16:00 |
| Asda Market Square - Ellesmere Port | CH65 0BZ | 10:00-16:00 |
| Boots - Coliseum Park - Ellesmere Port | CH65 9HD | 10:00-17:00 |
| Lloyds Pharmacy (Inside Sainsburys) - Kinsey Road - Little Stanney | CH65 9HN | 10:00-16:00 |
| Holland Hollow Lane - Kingsley | WA6 8EF | 14:00-16:00 |
Halton
| | | |
| --- | --- | --- |
| Pharmacy | Postcode | Opening hours |
| Asda Pharmacy - West Lane - Runcorn | WA7 2PY | 10:00-16:00 |
| Appleton Village Pharmacy - Widnes | WA8 6EQ | 12:00-14:00 |
| Asda Pharmacy - Widnes Road - Widnes | WA8 6AH | 10:00-16:00 |
| Boots - Widnes Shopping Park - Widnes | WA8 7TN | 10:00-17:00 |
| Tesco In Store Pharmacy - Ashley Retail Park - Widnes | WA8 7YT | 09:00-17:00 |
Knowsley
| | | |
| --- | --- | --- |
| Pharmacy | Postcode | Opening hours |
| ASDA Pharmacy - Huyton Lane - Huyton | L36 7TX | 10:00-16:00 |
| Tops Pharmacy - Glovers Brow - Kirkby | L32 2AE | 14:00-16:00 |
| Boots - Cables Retail Park - Prescot | L34 5NQ | 07:00-18:00 |
| Tesco Instore Pharmacy - Cables Retail Park - Prescot | L34 5NQ | 09:00-17:00 |
Liverpool
| | | |
| --- | --- | --- |
| Pharmacy | Postcode | Opening hours |
| ASDA Pharmacy - Breck Road - Everton | L5 6PX | 10:00-16:00 |
| ASDA Pharmacy - Smithdown Road - Wavertree | L15 3JR | 10:00-16:00 |
| ASDA Pharmacy - Speke Hall Road - Hunts Cross | L24 9GB | 10:00-16:00 |
| ASDA Pharmacy - Utting Avenue - Walton | L4 9XU | 10:00-16:00 |
| Boots - Church Street - Liverpool | L1 1DA | 10:00-17:00 |
| Boots - Clayton Square - Liverpool | L1 1QR | 11:00-17:00 |
| Boots - Speke Road - Speke | L24 8QB | 09:00-17:00 |
| Chemist Cares - Myrtle Street - Liverpool | L7 7AJ | 16:00-20:00 |
| Gateacre Park Pharmacy - Gateacre Park Drive - Gateacre | L25 1PD | 16:00-20:00 |
| Lloyds Pharmacy (Sainsburys Store) - East Prescot Road - Knotty Ash | L14 5PT | 10:00-16:00 |
| Lloyds Pharmacy (Sainsburys Store) - Walton | L9 1NL | 10:00-16:00 |
| Norman Pharmacy - Walton Rd - Walton | L4 4AH | 16:00-20:00 |
| Tesco In Store Pharmacy - Allerton Road - Woolton | L25 7SF | 09:00-17:00 |
| Tesco In Store Pharmacy - Mather Avenue - Mossley Hill | L18 6HF | 09:00-17:00 |
| Tesco In Store Pharmacy - Park Rd - Toxteth | L8 4XF | 09:00-17:00 |
| Watterson Pharmacy - High Street - Wavertree | L15 8HF | 16:00-20:00 |
| Woolton Late Night Pharmacy - Hunts Cross Ave - Woolton | L25 9ND | 16:00-20:00 |
Sefton
| | | |
| --- | --- | --- |
| Pharmacy | Postcode | Opening hours |
| ASDA Pharmacy - Ormskirk Road - Aintree | L10 3LN | 10:00-16:00 |
| Boots - Aintree Retail Park - Aintree | L9 5AN | 09:00-18:00 |
| ASDA Pharmacy - Strand Road - Bootle | L20 4BB | 10:00-16:00 |
| Bridge Road Chemist - Bridge Road - Litherland | L21 6PH | 10:00-12:00 |
| ASDA Pharmacy - Derby Road - Southport | PR9 0TY | 10:00-16:00 |
| Boots - Central 12 Shopping Park - Derby Road - Southport | PR9 0TQ | 09:00-16:00 |
| Boots - Chapel Street - Southport | PR8 1AH | 11:00-17:00 |
| Lloyds Pharmacy (Sainsburys Store) - Lord Street - Southport | PR9 0AF | 10:00-16:00 |
| Tesco Instore Pharmacy - Town Lane Kew - Southport | PR8 5JH | 09:00-17:00 |
St Helens
| | | |
| --- | --- | --- |
| Pharmacy | Postcode | Opening hours |
| ASDA Pharmacy - Kirkland Street - St Helens | WA10 2EF | 10:00-16:00 |
| Boots - Church Street - St Helens | WA10 1BD | 10:00-16:00 |
| Boots - Ravenhead Retail Park - St Helens | WA9 1JF | 11:00-16:00 |
| Millennium Pharmacy - Shaw Street - St Helens | WA10 1DG | 10:00-16:00 |
| Tesco In Store Pharmacy - Linkway - St Helens | WA9 3AL | 09:00-17:00 |
Warrington
| | | |
| --- | --- | --- |
| Pharmacy | Postcode | Opening hours |
| Asda Westbrook Centre - Warrington | WA5 8UQ | 10:00-16:00 |
| Boots - Europa Boulevard - Warrington | WA5 7TY | 10:00-16:30 |
| Boots - Golden Square Shopping Centre - Warrington | WA1 1TH | 11:00-17:00 |
| Tesco Winwick Road - Warrington | WA2 7NE | 09:00-17:00 |
| WELL - Bath St HC - Warrington | WA1 1UG | 10:00-16:00 |
Wirral
| | | |
| --- | --- | --- |
| Pharmacy | Postcode | Opening hours |
| Heswall Hills Brimstage Road - Wirral | CH60 1XF | 14:00-16:00 |
| Tesco Bidston Moss - Bidston | CH43 7AA | 09:00-17:00 |
| Asda Grange Road - Birkenhead | CH41 6EB | 10:00-16:00 |
| Boots Grange Road - Birkenhead | CH41 2PH | 10:00-16:00 |
| Asda Welton Road - Bromborough | CH62 3QP | 10:00-16:00 |
| Boots Welton Road - Bromborough | CH62 3PN | 10:00-16:00 |
| Tesco Telegraph Road - Heswall | CH60 7SL | 09:00-17:00 |
| Asda Seaview Road - Wallasey | CH45 4NZ | 10:00-16:00 |
| Manor Station Approach - Meols | CH47 8XA | 10:00-12:00 |
| Lloyds Pharmacy (Inside Sainsburys) - Upton Bypass - Upton | CH49 6QG | 10:00-16:00 |
| Asda Woodchurch Road - Upton | CH49 5PD | 10:00-16:00 |
| Lloyds Arrowe Park Hospital - Wirral | CH49 5PE | 09:00-22:00 |