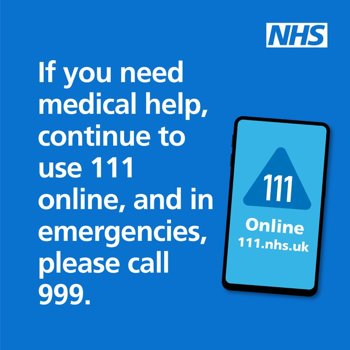 NHS pay is a matter for the Government and trade unions.
The NHS has tried and tested plans in place to mitigate risks to patient safety and manage any disruption, including industrial action, but inevitably there will be some service disruption on strike days, with information about the impact of industrial action published nationally here.
Emergency care and other critical services such as maternity departments will be open as usual and life-threatening calls responded to.
However, there will be fewer ambulances on the roads during days of industrial action by ambulance staff, with the NHS prioritising those with life-threatening needs.
Local services will also keep their websites and social media accounts up-to-date with information about service disruption – so please check before you travel.
Irrespective of any industrial action, please do not hesitate to come forward to access care if you need it. We're urging people to make NHS 111 Online their first port of call if they need urgent health advice on days of strike action.
NHS 111 Online can tell you:
Where to get help for your symptoms
How to find general health information and advice
Where to get an emergency supply of your prescribed medicine
How to get a repeat prescription