NHS Cheshire and Merseyside wins gold award for "globally unique" digital waiting list tool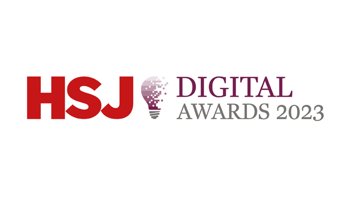 A "globally unique" digital tool which has saved thousands of surgeon hours and prevented people in Cheshire and Merseyside from being admitted to A&E, has been awarded national recognition.
NHS Cheshire and Merseyside won Gold in the 'Supporting Elective Recovery Through Digital' category, at the Health Service Journal Digital Awards on 22 June 2023, alongside technology partner C2-Ai, after transforming how waiting lists are managed with the help of an AI-backed waiting list model.
The tool helps surgical teams identify previously hidden high-risk patients, and to make informed decisions on how, when and where to treat patients to achieve the best outcomes.
The pioneering AI system works by analysing data held in multiple care settings to provide clinicians with an accurate and real-time understanding of the evolving individual risks facing their patients, and what will happen if specific action is not taken. 
HSJ judges praised the innovative tool, with the award recognising the AI-supported Patient Tacking List Stratification Model as "globally unique".
After successfully developing the pilot programme in partnership with Mersey and West Lancashire Teaching Hospitals NHS Trust it has subsequently been rolled out to other hospitals in Cheshire and Merseyside, with NHS sites in other parts of the country also starting to benefit.
Evidence shows that if vulnerable patients on waiting lists are not prioritised, they are more likely to be admitted to hospital via A&E. Results from the NHS England-commissioned project showed that waiting lists of patients who had been waiting more than a year, reduced by nearly 30% within six-weeks of the start of the programme, resulting in a 66% reduction in the need for intensive care for the highest risk patients - avoiding around 2,500 bed-days in hospital across 20,000 patients. An 8% reduction in emergency admissions for patients on waiting lists was also seen. 
Professor Rowan Pritchard-Jones, NHS Cheshire and Merseyside's Medical Director, said:
Information:
"We're delighted to have been named as winners of the HSJ Award for supporting elective recovery through digital. As we reach the milestone of our first anniversary as an ICS, this is recognition of the huge progress we've achieved, tackling some of Cheshire and Merseyside's biggest challenges alongside our partners. 
"However, we know there is still much to do. We're committed to driving the best health and care outcomes for the population we serve by using the best intelligence and innovative technology in the planning and delivery of care to benefit those who need it most."
Mark Ratnarajah, NHS pediatrician and C2-Ai UK Managing Director, said:
Information:
"NHS organisations have been seeking new intelligence to better manage the complexities of growing waiting lists. We are proud to have worked in close collaboration with the clinicians in Cheshire and Merseyside, to help address some of the most pressing and pervasive operational and clinical challenges the NHS has ever faced, as it reaches 75 years.  
"The surgical and clinical teams who have embraced and acted on this new intelligence on the risks facing their patients, fully deserve the recognition of the accomplishments for patient care, and new thinking in healthcare service design, that this award represents. This really is technology for good."
Categories in this first ever HSJ Digital Awards cover many aspects of the health and social care sector, demonstrating how digital initiatives can help to improve 'hard to tackle' issues such as reducing inequalities, improving mental health through digital services, assisting with the ongoing move to net zero and enhancing workforce engagement, productivity and wellbeing.
The full list of Winners and those Highly Commended for the 2023 HSJ Digital Awards can be found at: https://partnership.hsj.co.uk/winners-2023