NHS Cheshire and Merseyside to be "unapologetically anti-racist"
Wednesday, 13 September 2023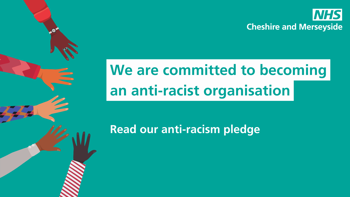 NHS Cheshire and Merseyside has pledged to be unapologetically anti-racist and take positive action against discrimination by committing to NHS England North West's Black and Minority Ethnic (BAME) Assembly Anti-racist Framework.
The aim of the framework is to support all North West NHS organisations to become anti-racist by encouraging the tackling of structural racism and discrimination through collaboration, reflective practice, accountability and action.
Its five key principles are:
Prioritise anti-racism

Understand lived experiences

Grow inclusive leaders

Act to tackle inequalities

Review progress regularly
Figures show there are more than 383,000 Black Asian and Minority Ethnic staff (BAME) working in the NHS, making up almost a quarter of the entire NHS workforce. 
Raj Jain, Chair of NHS Cheshire and Merseyside, said: "It simply isn't enough to not be racist, we must become unapologetically anti-racist and take positive action to eliminate racism from our organisations and ensure our people are able to work free of discrimination.
"If the NHS doesn't recognise and welcome diversity within its workforce, it will not be possible to truly understand the root causes of health inequalities and take positive steps to reduce them."
Thomasina Afful, Associate Director for Equality, Diversity and Inclusion, said: "To become an anti-racist organisation, we need to be honest about racism, its existence in the NHS and its impact on our people and communities.

"While we can support colleagues across the region on their journey, it's essential that we take our own steps on our own journey towards greater diversity and inclusion. We also recognise that our commitment to this journey will require continuous review of our progress and our intentional actions for change."
The framework tool was produced by the North West's Black and Minority Ethnic (BAME) Assembly, the Northern Care Alliance's Inclusion Centre of Excellence and NHSE North West.
Promoting equality, diversity, human rights and inclusion is at the heart of everything NHS Cheshire and Merseyside does. This ensures that services are commissioned, redesigned and decommissioned fairly and that no community or protected group in Cheshire and Merseyside is disproportionately affected.
Read NHS Cheshire and Merseyside's pledge here.
Find out more about the NHS England North West Black and Minority Ethnic (BAME) Assembly Anti-racist Framework here.
You can find out more about equality and inclusion at NHS Cheshire and Merseyside here.