National Medical Director Prof Sir Stephen Powis visits Cheshire and Merseyside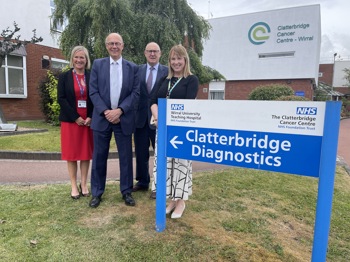 National Medical Director Prof Sir Stephen Powis visited Cheshire and Merseyside to find out how innovations are helping to improve health outcomes for local patients.
Prof Powis, who became a household name during the COVID-19 response when he appeared alongside politicians and fellow health leaders on national Coronavirus briefings, visited a number of NHS primary and secondary care facilities in Wirral on Friday, June 23rd.
Following a visit to Eastham Group Practice, led by NHS England's Regional Medical Director for Primary Care Dr Paula Cowan, Prof Powis toured a Community Diagnostic Centre and neighbouring Cheshire and Merseyside Surgical Centre at Clatterbridge Hospital.
Joined by local NHS leaders, including NHS Cheshire and Merseyside Chief Executive Graham Urwin, he then visited Arrowe Park Hospital to tour the new dialysis unit and the site of the new A&E.
Dr Paula Cowan, NHS England's Regional Medical Director for Primary Care, said: "It was a pleasure to host Prof Powis and to introduce him to not only the members of the practice team, but colleagues from across the Primary Care Network and local Pharmacy to demonstrate new ways of integrated working in General Practice, neighborhood teams and wider Primary Care."
Liz Bishop, Chief Executive of The Clatterbridge Cancer Centre NHS Foundation Trust and Senior Responsible Officer for Diagnostics in Cheshire and Merseyside, said: "We were delighted to welcome Prof Powis to Clatterbridge Diagnostics, which has now delivered more than 59,000 additional tests and scans for the NHS since opening in 2021 as one of the first Community Diagnostic Centres nationally. It's been a fantastic success and a true partnership between The Clatterbridge Cancer Centre and Wirral University Teaching Hospital that demonstrates how closely different NHS services are working together to help people gets the tests and treatment they need.
"Prof Powis was also very interested in the extensive, highly innovative diagnostics work taking place across Cheshire and Merseyside which is well ahead of many other areas, with our seventh Community Diagnostic Centre about to open, a new system-wide endoscopy staff bank and health partners working together to develop endoscopy hubs."
Janelle Holmes, Chief Executive at Wirral University Teaching Hospital, said: "We were delighted to welcome Prof Powis to our Trust and to showcase the fantastic work happening at our sites, as well as our strong leadership and partnership work in Wirral. This was a great opportunity to demonstrate the innovative projects that are already improving patient care and our exciting future projects that will further benefit the Wirral community.
"We were able, for example, to show how we are making great strides in addressing the elective surgery backlog through the new theatres at Clatterbridge, how we are speeding up access to scans and tests through the Clatterbridge Diagnostics Hub and the real progress on building a new A&E at Arrowe Park for the people of Wirral. All these projects support national NHS priorities in delivering care and making life better for patients."