Major Covid booster vaccine roll-out announced for Autumn 2022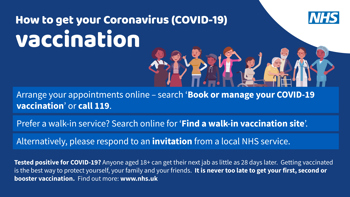 People living in Cheshire and Merseyside will soon be among the first in the world to receive the new Covid-19 vaccine, when the autumn booster programme begins in September. 
Staff from NHS Cheshire and Merseyside will begin vaccinating care home residents and people who are housebound in the first phase of the campaign.
The National Booking Service will also open as part of the wider rollout, due to start on September 12, for those most susceptible to serious illness from Covid-19 and those aged 75 and over to book an appointment for their jab.
Extensive planning for the rollout is already underway and local areas are already booking care home residents in for their vaccine to ensure they can get protected at the earliest opportunity.
Jayne Wood, Director of the vaccination programme for NHS Cheshire and Merseyside, said: "We are the first country in the world to offer the new vaccine which fights against the original strain of the virus and, importantly, the Omicron variant.
"I would urge everyone who is eligible to come forward as soon as they possibly can. Although we are back to living more normal lives and doing things we did before the pandemic, Covid-19 is still a horrible virus that can make you seriously ill. The best way to protect yourself is to get every vaccine dose which is offered to you."
As with previous campaigns, the oldest and most vulnerable will be called forward first, with other eligible people able to book online or through calling 119 -  as long as it has been three months since their last dose. 
Well over four in five eligible people received a Spring booster earlier this year and the NHS urged those people to get that dose before the end of July in order to ensure enough time had passed to optimise the protection an autumn booster would provide over winter. 
The Autumn booster campaign is part of a package of NHS measures to prepare for winter, including ramping up bed capacity and increasing the number of 999 and NHS 111 staff to deal with any additional pressure. 
You can book an appointment or find your local vaccination service online or by calling 119.